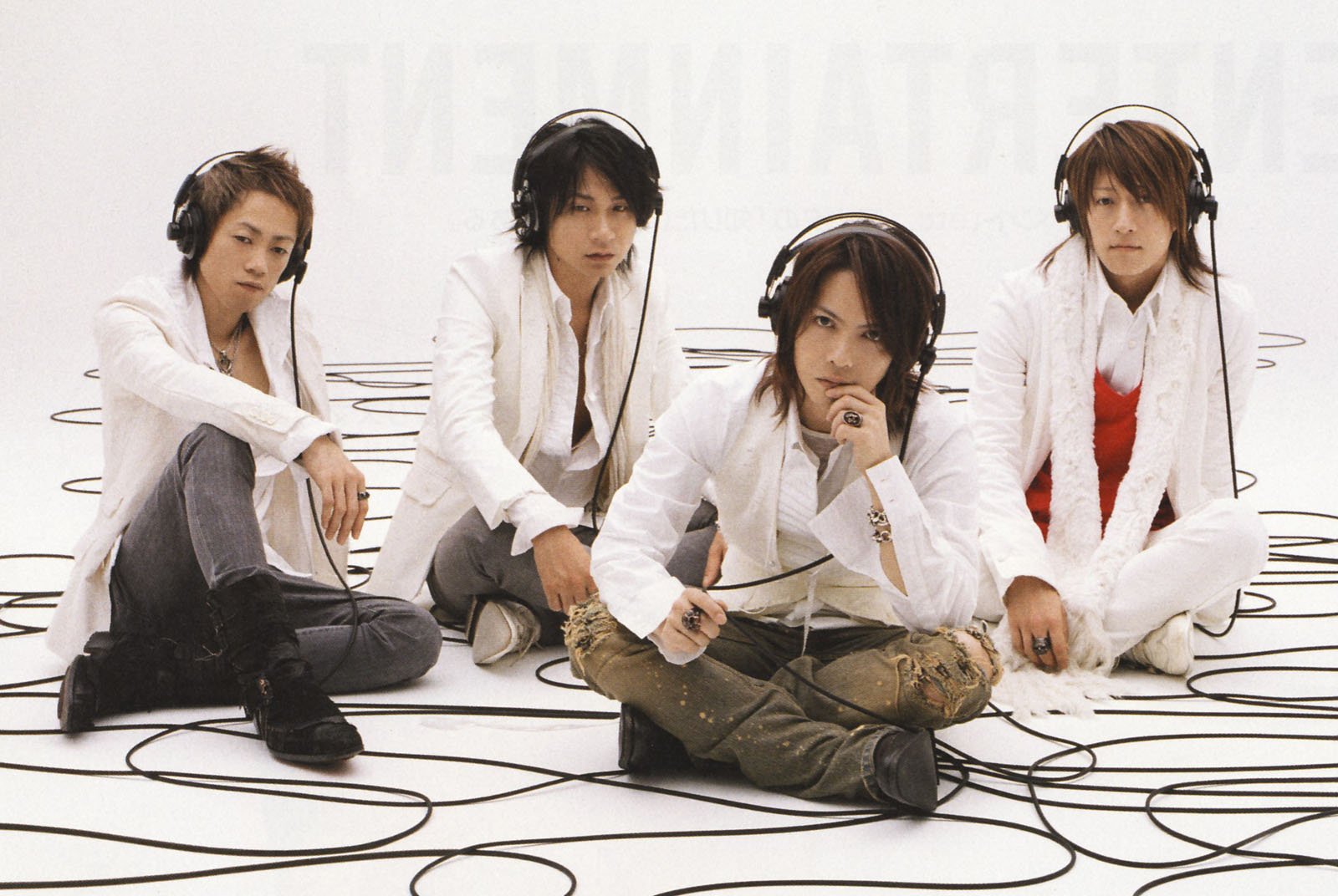 L'Arc~en~Ciel (ラルク アン シエル Raruku An Shieru, "Pelangi" dalam bahasa Prancis) adalah nama grup musik Jepangberaliran J-Rock. Band ini beranggotakan Hyde (vokal), Ken (gitar), Tetsuya (bass), dan Yukihiro (drum). Grup musik ini didirikan oleh Tetsuya pada Februari 1991. Nama "L'Arc~en~Ciel" berasal dari sebuah kata dalam bahasa Perancis yang secara harfiah berarti "lengkungan di langit" atau "pelangi", nama ini diambil dari judul sebuah film Perancis yang pernah ditonton oleh Tetsuya.
Di Jepang saja, band ini telah menjual lebih dari 28 juta kopi album dan single, dengan terjual 13 juta album, 16 juta single, dan jutaan unit lainnya, termasuk video. Mereka peringkat di nomor 58 pada daftar Top 100 musisi pop Jepang, yang disediakan oleh HMV Jepang pada tahun 2003, dan termasuk di antara seniman yang paling berpengaruh di dunia musik Jepang. Serta Menempati Posisi 15 dalam List of 50 Best Selling Artists of All-Time in Japan .
Awal terbentuk
Osaka, sekitar awal tahun 1991 dua orang anak muda bernama Tetsuya dan Hiro membentuk sebuah grup band. Tetsuya berperan sebagai bassis berikut vokal, sementara Hiro sebagai gitaris. Pada waktu itu Hyde masih menjadi gitaris di sebuah band bernama Kiddies Bomb, yang kemudian berganti nama menjadi Jerusalem's Rod dan Hyde berganti posisi menjadi vokalis (meskipun pada saat itu ia sama sekali tidak tertarik dengan perannya tersebut).
Pada suatu hari Tetsuya menyaksikan penampilan grup band tersebut untuk kali pertama. Ketika itu ia merasa yakin bahwa Hyde adalah orang yang tepat untuk mengisi posisi vokal di grup band-nya. Maka selama beberapa waktu ia terus mengikuti penampilan band tersebut, hingga pada akhirnya ia memutuskan untuk mengajak Hyde dan rekannya di Jersarem's Rod, Pero untuk bergabung dengannya. Setelah beberapa kali melakukan session, Hyde akhirnya memutuskan untuk meninggalkan band lamanya dan bergabung bersama band Tetsuya. Maka terbentuklah formasi paling awal L'Arc~en~Ciel, yakni Tetsuya (bass sekaligus pemimpin band), Hyde (vokal), Hiro (gitar), dan Pero (drum).
Saat itu tetsuya sedang berada di sebuah kissaten (kedai teh/kopi) depan stasiun Hankyu Umeda di Osaka. Selain merekrut anggota band, tetsuya juga sedang mempertimbangkan nama yang tepat untuk band barunya. Kebetulan tetsuya melihat nama kissaten tempat dia nongkrong memiliki nama yang unik yaitu Raruku an Shieru (tertulis dengan huruf katakana). Walaupun awalnya tetsuya merasa tertarik menggunakan Raruku an Shieru sebagai nama band barunya, pada akhirnya tetsuya justru berpendapat sebaliknya.
Setelah kejadian di kissaten Raruku an Shieru, tetsuya masuk ke dalam sebuah toko buku dengan tujuan mencari nama yang cocok untuk band barunya lewat buku-buku yang ada di sana. Di antarasekian banyak buku yang dibaca, tanpa sengaja tetsuya membaca sebuah buku yang memuat kata Raruku an Shieru dan mengetahui artinya sebagai lengkungan di langit. Tiba-tiba saja tetsuya mendapatkan inspirasi, inti filosofi dari warna warni pelangi yang melambangkan campuran suara berbentuk musik. Seketika tetsuya memutuskan untuk menggunakan kata tersebut sebagai nama band barunya. Kata tetsuya, "Nama yang panjang dan agak sulit diingat orang (Jepang maksudnya), tapi jika ditulis dengan romaji (huruf latin), impact bagi orang yang baca akan menjadi lebih kuat." Dengan demikian, tetsuya akhirnya menggunakan huruf latin dari kata Raruku an Shieru sebagai nama band barunya yaitu L'Arc~en~Ciel.
Penampilan live pertama mereka yaitu pada tanggal 30 Mei 1991 di Nanba Rockets. Bahkan ketika itu sang pemilik panggung berpikir bahwa L'Arc~en~Ciel akan menjadi sangat terkenal, dan hal itu terbukti beberapa tahun kemudian.